Samsung Galaxy Note 5 is the latest phablet from the Korean tech giant, and it is set to give every other tablet maker a run for their money. The device features a thinner bezel with a higher screen to body ratio than before. The display is brighter and offers ultra-sharp quality. It uses the same chipset from Samsung Galaxy S6 series, supports multitasking, stylus and a larger battery life. There is more to the new phablet from the stables of the world's largest smartphone maker.
Dimensions
The new Galaxy Note 5 weighs 171g and measures 7.6mm in thickness. The Note 4 was slightly heavier and had a thickness of 8.5mm. At 6.8mm, the Galaxy S6 is, however, a big achievement for Samsung.
Display
The phablet features a 5.7-inch Super AMOLED display with a slightly higher screen to body ratio than its predecessor. It has the same 1440 x 2560 pixels so the pixel density is just slightly improved. Despite this minor upgrade in pixel density, it is brighter, more vivid and supports wider viewing angles.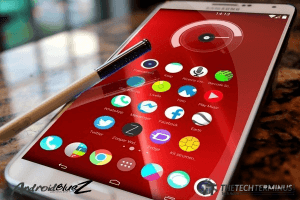 Camera
Samsung has not made any major improvements in the camera department. Similar to its predecessor, the Note 5 has a 16 MP primary camera with all the same features. But there is a new secondary camera with a 5-megapixel lens. Video calls will likely be more vivid than before.
Memory & Storage
When Samsung released the Galaxy S6, it did an 'Apple' in the storage department. The company did away with the external storage slot. It has done the same with its Galaxy Note 5 – it doesn't have a microSD slot for additional storage while the Note 4 supported external storage up to 128GB. Note 5 is, however, available in 3 models with internal storage of 32GB, 64GB, and 128GB. The new phablet, however, has 4GB of RAM, which is an improvement over its predecessor that hailed 3GB memory.
Processor
Samsung has fitted its new phone with a leaner and meaner, 64-bit octa-core chipset that makes it one of the fastest processors this year. It is the same chipset being used in Galaxy S6.
Operating System – Samsung is shipping its new phablet with Android 5.1.1 Lollipop. The Note 4 was upgradable only up to 5.0.1 L. The Galaxy S6 was shipped with Android 5.0.2 L and could be upgraded to Android 5.1.1 L.
Samsung has tried to keep Galaxy Note 5 almost the same as its predecessor. Yet the new phablet smartphone is more powerful, faster, slimmer and has a brighter and more colorful display compared to its predecessor.