Assassin's Creed Syndicate is the new title from the Assassin's Creed series released on 23 October 2015 for PlayStation 4, Xbox One, and will be released on 19 November for Microsoft Windows platform. And guess what? Upon a few days after its initial release date, it has topped the UK sales chart for being the number one best-selling game in the UK. Why does it happen? Perhaps, it has everything to do with the story of the game itself, which takes place in London during the industrial revolution era. Not only that, there are features that are not available in the previous games in the series. You'll find out what. But for the moment, suffice it to say that Assassin's Creed Syndicate is another excellent sequel of the main Assassin's Creed series.
Story and Setting
As with other games in the Assassin's Creed Series, you will play as an assassin in a certain time and place, which corresponds to that era's historical period. This time, in Assassin's Creed Syndicate, you are playing as twin assassins named Jacob Frye and Evie Frye, which are about to change the fate of London during the industrial revolution era. And as usual, your arch nemesis would be the Templars, which is already taking powerful positions throughout London. Your job is to eliminate each of the Templar so that you can set the revolution as planned, as well as to recover the Piece of Eden, which has become the main objective for the Assassin Brotherhood throughout the series.
In this game, you are going to experience the world of London in the year 1868, and the game allows you to roam around the old London freely between missions. Of course, there will be notable characters that you will meet in this game, just like any other titles in the series. In Assassin's Creed Syndicate, you will meet notable characters such as Alexander Graham Bell, Edward Bayley, Charles Dickens, Florence Nightingale, and Frederick Abberline. These people will aid you along the way to reach your ultimate objective, as these people have certain connections with the Assassins and the Templars. And there are popular places that you can visit throughout the game, such as Tower of London, Buckingham Palace, Alhambra Theatre, Monument of the Great Fire of London, and St. Paul's Cathedral.
Gameplay
The overall gameplay style and mechanic are the same with the previous Assassin's Creed games, which means that you don't need to learn a new thing just to master the movement and control of your character. However, what is interesting to note is that you can play as two assassins in one game. Best of all, the other character is a female. This is probably what makes this game different from the previous entries in the series. There are also mini-games that you can play throughout the game, whether as a part of the main mission or as side missions. The combat system within the game has various improvements, which can be said that it is a lot smoother, with lots of new killing moves.
The open world setting allows you to freely roam around various areas in the Victorian London time, which gives you a GTA-like feeling when playing this game. When battling the enemies, you can use various weapons, and the variety of weapons that can be used by each character is different. Each character has their own fighting style, giving you lots of enjoyment in each battle. However, it needs to be noted that Assassin's Creed Syndicate doesn't feature any multiplayer mode, keeping you from enjoying this game with others.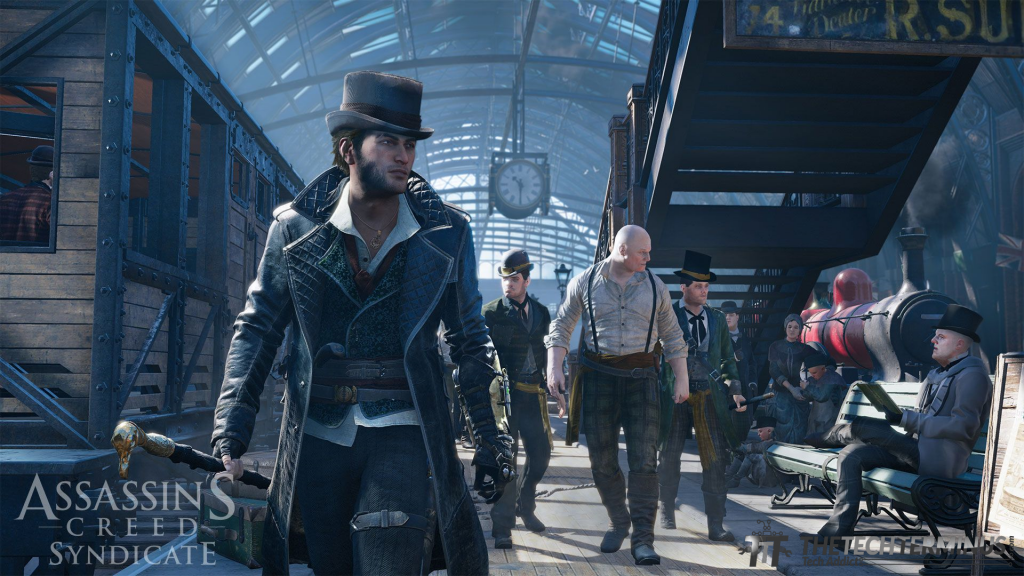 Graphics
Assassin's Creed Syndicate offers beautiful visuals and graphics, running smoothly for each respective platform. The game is locked to 30fps for the full resolution, which runs very smoothly for PS4, Xbox One, and Microsoft Windows platforms. If we compare with the previous releases, especially Assassin's Creed Unity, which was known for its graphic problems, we can say that Assassin's Creed Syndicate delivers the best graphic and visual experience, in terms of art styles and performance. Some wide and big areas might cause certain FPS drops, which are almost unnoticeable, and even though the FPS drops happen in some areas within the game, the game will be back to its normal FPS before you notice any FPS drop.
Noted Improvements
Assassin's Creed Syndicate is a great improvement from its predecessor, and this is probably one of the best Assassin's Creed games that you can play. Here are various noted improvements that you can find within the game:
You can play as two characters, which you can switch throughout the game.
Each character has a different set of styles and weapons to carry.
Smoother battle experience with various new killing movements to try.
There are various mini-games that are fun to play, which are the rich additions for the overall gameplay mechanics.
The visual experience is awesome, delivering a smooth graphic experience without any noticeable bugs or problems.
The wide open-world areas provide you with lots of space to explore.

Overall
In conclusion, we can say that Assassin's Creed Syndicate is a worthy sequel for the Assassin's Creed series. It is one of the must-play titles from the Assassin's Creed series that you don't want to miss. The story and setting allow you to explore the depth of London during the Victorian era, which allows you to get in touch with various popular and notable characters that help to lead London into the industrial revolution.
The gameplay mechanic is similar to the gameplay in any other Assassin's Creed series, which is what makes the Assassin's Creed series unique. With the addition of various mini games, the gameplay is no longer boring and repetitive. As for the graphics, we can say that the game offers excellent graphics and visuals that are worth praising, without any serious graphical bugs that are commonly experienced in the newer Assassin's Creed titles. Finally, there are a lot of improvements that you can see in the game, making this newest title seem so interesting to play, albeit without any available multiplayer game mode.
Debut Trailer:
Cinematic Trailer:
Assassins Creed Syndicate