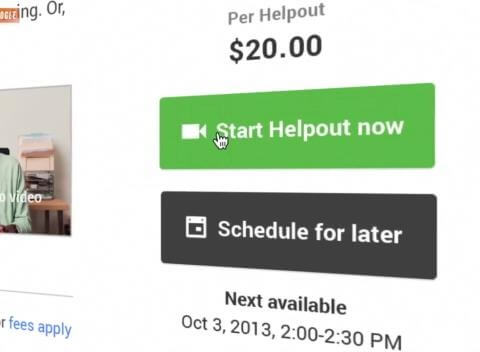 The majority of the Internet users have the habit of searching online to know the reasons behind different medical symptoms they are having. Googling to find the root cause of a minor headache or a light pain in the lower back is something most of us have done. Often those searches have helped us to identify the underlying cause of medical symptoms we have been suffering from. Google is now working to make the process even simpler for us.
To help users get to the root cause of different medical symptoms with direct help from a professional, Google is testing a new system that will connect patients with doctors through live video chats.
A Reddit user recently came across this new feature when he was Googling to know about "knee pain" on his Android smartphone.
Other than the regular search results that explained what knee pain actually is and factors that may lead to knee pain, the Reddit user noticed a "Talk with a doctor now" link right at the top of the results page. The above mentioned link was accompanied by a Hangouts icon, which indicated that users will now be able to use Google's services to consult doctors online right away.
There was also an information box beside the link. On the box, it's written that the search query (knee pain) of the user shows that he is looking to gather knowledge about a particular medical condition. It's also written that Google's search page will help him in finding medical practitioners whom he can talk to over a video chat and as this is just a trial the costs of the visit will be covered by Google.
No other information has been provided by Google regarding this ongoing trial program. It's also not known for how long the Mountain View-based search engine giant is planning to test the program or whether there's any particular procedure to become eligible to get the opportunity of meeting a doctor on a live video chat. Google has even not made any announcement regarding the price of the service once it becomes a regular feature.
Many are also wondering about the kind of help Google doctors will be able to provide users with. Will they only discuss potential diseases? Will they also offer suggestions after assessing the symptoms? Will they help users with tips on healthy lifestyle practices?
Another big concern for users is that once Google rolls out the new program as a paid feature, will it be refunding the fee if the medical practitioner feels that instead of taking tips on a Hangout, the patient should be taken to an emergency room.
When talking about the under-trial program, a Google spokesperson said that the company is resting this new feature to find out whether it will make the search experience more helpful for people. This statement makes it clear that this is not the right time to draw any conclusion about the program.
google trial